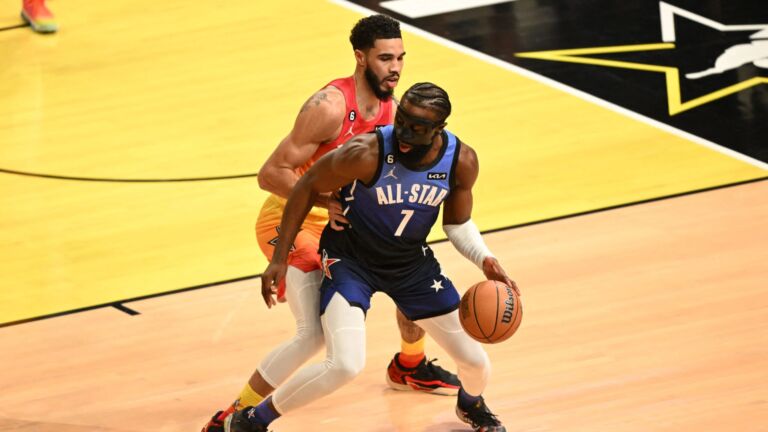 Last Sunday's NBA All-Star Game on TNT and TBS was a fun watch if you're a Celtics fan.
Jayson Tatum scored a record 55 points and departed with the Most Valuable Player award. Jaylen Brown scored 35 points and went shot for shot during a stretch in the second half with Tatum.
It was a beautiful evening for the Greens. That wasn't the case for the league, at least after viewership figures were announced.
The game that was broadcast ran as if it were in competition Victor Webanyamawith an average rating of 2.2 and 4.6 million viewers on TBS/TNT, the least watched and lowest rated NBA All-Star game of all time.
Pro rating guru Jon Lewis On Sports Media Watch, the previous lows were a 3.1 rating in 2021 and 2022 and a viewership of 6.1 million in 2021.
Ratings fell 29 percent year-over-year and viewership fell 27 percent, the sharpest decline since 2000. Last year's All-Star Game had far tougher competition than this year's — the Beijing Winter Olympics were being held at the same time on NBC.
The NBA's numbers for the game — a celebratory event for the league — were so bad that the commissioner Adam Silver, the league's broadcast partners and the Players Association really have no choice but to get in a room and find a solution. That does not work.
The obvious solution is to convince players to go back to treating it like a competitive game rather than a basket change where everything is an attempted climax. The Tatum/Brown duel was fun for Boston fans, and there were even hints of defense, but there were eight other players on the field who were essentially extras in their scene.
It was harrowing to see the social media highlights that night of the previous All-Star game in Salt Lake City in 1993. It looked like – get that – a real Basketball game, with actual defense and rebounds.
But it's understandable why players don't treat it that way. They don't want to get hurt in a glorified exhibition when it comes to nine-figure contracts, and who can blame them? And there are no actual stakes in the game, and as Major League Baseball proved with their stupid, since-abandoned, decision to attach World Series home field court advantage to the winning league in their All-Star game, it probably shouldn't be any of be real consequence.
Perhaps the solution is to offer the winning side a cash prize – perhaps a million dollars, to be split. But would what is essentially a bribe make the whole thing feel inauthentic?
Don't take this as a screed against the NBA or its stars. I'm a big fan of the league and they get a lot of details right. (Having two players create all-star rosters is an original idea, well executed.)
No league is more adept at using social media, which could be part of the problem – why watch the full match when all the highlights are online instantly and YouTube has a 10-minute rundown of the best moments by morning?
The league's social media engagement and youthful demographic is the envy of all other professional sports. But the NBA All-Star Game draws a smaller television audience than the Pro Bowl, which has essentially become the NFL's version of an elementary school field day.
Good luck to Silver and the NBA in trying to fix this. It was a blast seeing Tatum and Brown one on one. It was boring seeing everyone else standing around.
Appropriate Punishment
Tony Massarottis a week's suspension without pay for a racist comment on last Friday's show was the appropriate punishment. The 98.5 The Sports Hub host deserves the opportunity to prove that his apology on Monday's show was genuine and that his idiotic comment was a one-off rather than something that will be repeated. But I still wonder two things: would he have said it if the men he was referring to in his "joke" were white rather than black? And how could a siren not go off in his head saying, "DON'T SAY IT! DO NOT SAY IT!" when he made the comment? It's amazing that he didn't realize he crossed the line at that moment.
Stop the trash talk
JJ Redicks The podcast The Old Man and the Three has become a must-listen for NBA junkies, but its shtick destroying bygone NBA legends is starting to tire. Back in May, while appearing on ESPN's dueling Blabbermouth program First Take, Redick fired Bob Cousys Accomplishments by saying he was guarded by "plumbers and firefighters". There's probably some truth to that, but it's not like there's a higher league for him to play in, and besides, nobody should ever insult Cooz. More recently, Redick cast shadows Larry Vogel by suggesting that the NBA game in the 1980s wasn't as physical as it is today and he would fight as a 3 point shooter in the modern game. hall of fame Dominic Wilkins offered an apt response to this nonsense: "Redick doesn't know what the hell he's talking about." …. The Sports Hub recently reinstated the lunchtime co-host Markus Bertrand with a multi-year contract. Bertrand has been with the channel since its inception in August 2009 and has co-hosted the highly rated "Zolak and Bertrand Show" since February 2015… Am I the only one thinking Chris Salecolorful open when he wants, could one day become an excellent analyst?
Loading…