TG4 will broadcast 13 live women's NFL games
January 18, 2023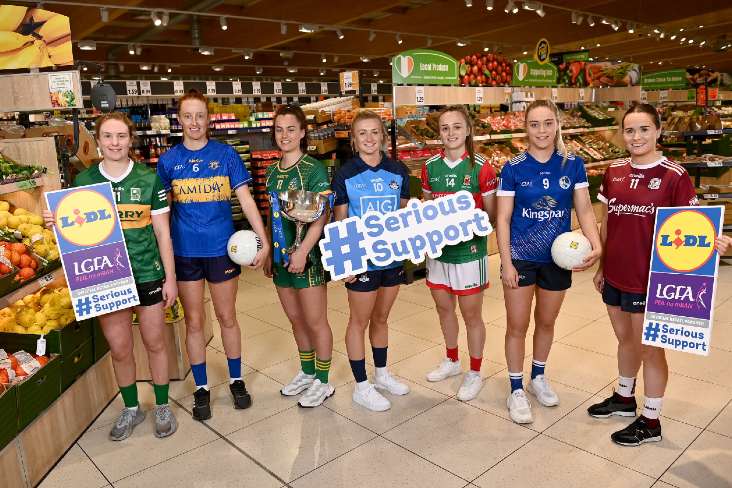 Lidl Ambassadors, from left, Kerry Aishling Moloney's Síofra O'Shea from Tipperary, Emma Duggan from Meath, Carla Rowe from Dublin, Shauna Howley from Mayo, Ally Cahill from Cavan and Nicola Ward from Galway at the launch of the Lidl Ladies National 2023 football leagues. Photo by David Fitzgerald/Sportsfile
TG4 has confirmed live coverage of 13 Lidl Ladies National Football League 2023 matches, including at least one match per round, while all other matches in the competition and across all four divisions will be available via the LGFA's https live streaming portal ://page.inplayer.com/lgfaseason2023/lidl-nfl.html
TG4 live coverage begins this Saturday night (21st January) when Leinster champions Dublin take on provincial rivals Meath, current Lidl National League Division 1 titleholders and TG4 All-Ireland Senior champions, for a 5.15pm start p.m. welcomes you to DCU St. Clare's.
A week later, on Saturday, January 28th, Lidl NFL Division 2 Champion and TG4 All-Ireland Senior Finalist Kerry are in attendance at the Connacht GAA Center of Excellence to take on Mayo at 12.45pm. This clash marks the first competitive encounter between Kerry and Mayo since last year's TG4 All-Ireland SFC semifinals at Croke Park, which the Kingdom won 4-10, 0-13.
Meath v Galway and Cork v Dublin will both be televised live on Bank Holiday Monday 6 February before Kerry entertains Dublin on the live TV offer on 18 February. On February 25 Dublin will host Mayo and that game will be followed by two live TV games on St Patrick's Day, Friday March 17 when Dublin visits Donegal and Cork hosts Kerry in a Munster derby.
Live TV action of the league rounds concludes on March 25 when Cork hosts Meath, whilst TG4 will also provide live coverage of the Lidl National League Divisions 1 & 2 final from Croke Park on Saturday 15 April . The Divisions 3 & 4 finals will also be broadcast live on Sunday 16 April and will be available live on the Spórt TG4 YouTube channel.
TG4's live schedule:
Saturday 21st January – Dublin v Meath; 5:15 p.m
Saturday, January 28 – Mayo vs. Kerry; 12:45 p.m
Monday 6 February – Meath v Galway; 1:15 p.m
Monday 6th February – Cork v Dublin; 3 pm
Saturday 18 February – Kerry vs Dublin; 5:15 p.m
Saturday February 25; Dublin vs Mayo; 4:30 p.m
Friday 17th March – Donegal vs Dublin; 14 o'clock
Friday 17 March – Cork v Kerry; 4 p.m
Saturday 25 March – Cork v Meath; 13 o'clock
Saturday, April 15 – Lidl NFL Divisions 1 & 2 Finals
Sunday April 16 – Lidl NFL Divisions 3 & 4 Finals – Sport TG4 YouTube
Most Read Stories