Barbells clinked with squat racks as Penn State players growled and tensed, sweat dripping from their brows. Max-out day marks the end of winter training – a grueling seven-week gauntlet – and its custom of giving it your all, both mentally and physically.
From rack to rack, Chuck Losey, sporting his curly mustache, oversaw the session and encouraged his athletes to push before bringing the group together for a post-workout huddle.
Losey then ventured to the south end of the newly renovated weight room in the Lasch building. There he met with the media to recap his second series of winter training sessions as Penn State's assistant athletic director for the program's performance enhancement, head strength and conditioning position.
Here are the key takeaways from Losey's availability.
Managers have risen
Speaking to the media in early February, James Franklin made it clear that his "biggest" focus in the offseason is to replenish his program's strong lead from the previous season.
As the first stop on a football season's year-long journey, winter training sessions are usually where the first leaders emerge, and Losey said he's seen two players stand out from the rest over the past seven weeks.
Keaton Ellis, a full-time starter alongside Ji'Ayir "Tig" Brown who was a safe last season, has stepped up to the defensive side of the ball, Losey said.
"He did a good job, sort of took the reins," Losey said. "It's nice to have someone in your position who has the same strong leadership qualities as Tig did last year."
On offense, Losey said the entire offensive line rose to the occasion because of their depth and experience across the board, with one name in particular standing out.
Olu Fashanu could have been a first-round offensive tackle in this year's NFL Draft, but he's returned for another season and is expected to be among the top linemen in the nation next fall.
He's "done a good job" as a leader, Losey said, as he led a group of linemen that also includes three freshmen who enroll early.
Drew Allar's physical development
He may not be the loudest, but at 6ft 5, 238 pounds, Drew Allar stands out in a room unlike most other quarterbacks.
Allar has always been the size, but it wasn't until he enrolled early at Penn State last spring that he began to fill out his stature. Since then, he's added 20 to 25 pounds of muscle mass, Losey said.
"He looks great," Losey said. "He looks like a defensive end at the moment. I am very happy with his progress. He has attracted the lean mass. When he got here he was probably behind in terms of strength, power and speed and I'll tell you what, he closed the gap.
Despite being a 5-star player when he came to campus a year ago, Allar was physically behind fellow freshman quarterback, then-3-star Beau Pribula, last winter.
As a duo, Allar and Pribula have built their frames ahead of a fall that will likely take a lot out of them as two of Penn State's three scholarship quarterbacks on the list.
"I think the combination of Drew, who was probably behind the curve when he got here, and someone like Beau in the same room, and these two in the same class," Losey said, "really helped Drew."
How the transfers have developed
Fans and coaches have sometimes criticized the transfer portal for turning college football into some sort of free-agent craze. But for a strength and conditioning coach like Losey, it makes his job a little easier.
"If you get a guy who's been in a certain system for three or four years and then make that switch into someone else's system, they thrive," Losey said. "I don't think we've had a graduate transfer that wasn't successful."
Former North Carolina cornerback Storm Duck and former Florida wide receiver Malik McClain have earned heaps of praise since stepping onto campus in January. A month at Penn State and it sounds like nothing has changed.
"Storm was phenomenal," Losey said. "He's a perfect example of how you should run your business when you show up on campus as a graduate student. He just put his head down, he worked. He was one of the most consistent guys on the program day after day."
McClain, on the other hand, seems more outgoing but has brought the same work ethic and intensity to the field or weight room.
"He's great — a big, tall, long athlete, very, very athletic," Losey said. "He always has a smile on his face. He was the same [as Duck]. He's the same guy every day, he's consistent, he's grown up."
MORE FOOTBALL COVERAGE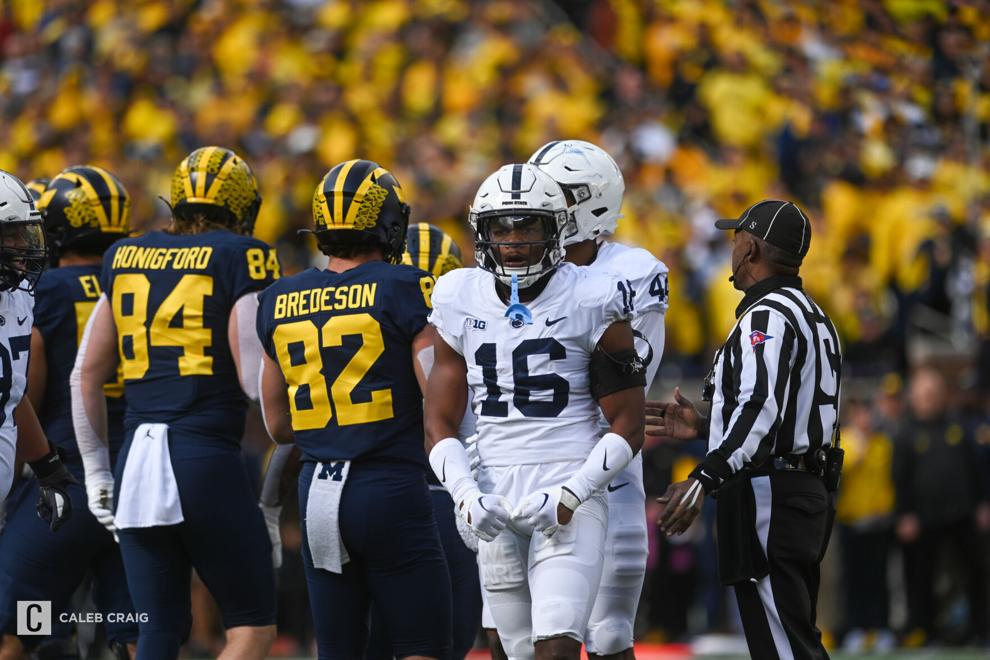 Defensive defenders will be at Lucas Oil Stadium for their NFL Combine workouts on F…