There were a few moments Friday night when Sacramento coach Mike Brown wished he could have enjoyed being a part of the second highest game in NBA history.
But Brown and his kings could celebrate something that matters more in the long run – a hard-fought win.
Malik Monk posted a career-high 45 points, De'Aaron Fox had the go-ahead basket and finished with 42, and Sacramento overtook the Los Angeles Clippers 176-175 in double overtime.
It's only the second time in the NBA's 76-year history that both teams have scored at least 170 points. Detroit defeated Denver in triple overtime on December 13, 1983, 186-184, in the NBA's highest-scoring game.
The Kings are third on the scoring charts with 176 points and the Clippers are fourth. Only seven times has a team scored 170 points in a regular season game.
"From a fan's perspective, I can see how much fun it would have been to watch this game," Brown said. "There was incredible shooting performance and great defense. There was high caliber talent on display. Kudos to the players.
Sacramento and Los Angeles also combined for 44 three-pointers, which was the most in a game in NBA history.
Both teams also shot at least 58% from the field and were 80% or better off the foul line.
"I thought it was a great game. Lots of momentum shifts," said Clippers coach Tyronn Lue.
The Clippers had a 175-169 advantage with 1:57 remaining before the Kings scored the final seven points, including Fox's jumper with 36.5 seconds remaining. The Clippers had the last shot, but Nico Batum missed a three-pointer on the buzzer.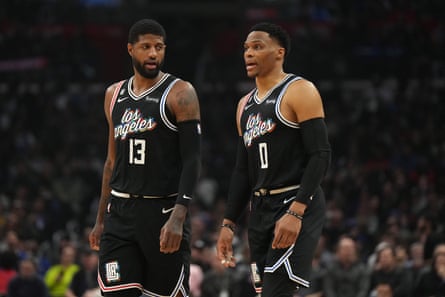 The Kings also overcame a 14-point deficit late in the fourth quarter and a six-point deficit in both overtime periods.
"We just stuck with it. We got down 12 at one point but just had our heads up. We knew they would let us back in," Monk said.
It was the first time in franchise history that the Kings had two players score at least 40 points in a game. It's the second time it's happened in an NBA game this season, after Cleveland's Caris LeVert and Donovan Mitchell did it against Boston.
Fox – who also had 12 assists and five steals – is only the 12th player since 1973-74 with 40 points, 10 assists and five steals in a game. James Harden last did it in 2019.
"We just had to grind this game. We stayed on the second night of a back to back but it is what it is. We have a younger team than them," Fox said.
Kawhi Leonard posted a season-high 44 points for Los Angeles and Paul George added 34. Leonard had 21 points in the third quarter, tying his career-high for points scored in a quarter.
"I thought he did a great job when he made three point shots and attacked the basket," Lue said of Leonard.
Russell Westbrook started and made his Clippers debut after clearing waivers on Wednesday. He had 17 points, 14 assists and five rebounds in 39 minutes before fouling in the second overtime with 1:49 minutes remaining.