TThere can't be many leagues here that have been hit as hard by the pandemic as the Chinese Super League. It was the first to deal with Covid-19 and the last to operate under tightly controlled conditions as China severely restricted daily life for longer than anywhere else. Having recently abandoned Beijing's so-called zero-Covid policy, the country of 1.4 billion people is finally opening up, and that can only be good news for its struggling soccer industry.
2019 seems like an eternity ago. Back then the league may have lost some of the luster that made it one of the most talked about in the world and some of the financial clout that previously coaches like Antonio Conte, then of Chelsea, had warned of the danger coming from the East, but the average attendance of 24,000 was still higher than anywhere else in Asia. There were international stars like Ezequiel Lavezzi, Graziano Pellè, Yannick Carrasco, Alex Teixeira, Javier Mascherano, Renato Augusto and Paulinho and lots of quality and excitement.
On the final day of the season, Guangzhou Evergrande beat Beijing Guoan for the title and celebrations in the city formerly known as Canton were certainly heard in nearby Hong Kong. However, when they got their hands on the trophy, neither Paulinho nor coach Fabio Cannavaro could have guessed that it would be eight months before next season started and everything would change in the meantime.
From then on, the Chinese Super League evolved from one of the most well-known competitions in the world to one where for three years most matches were played in empty stadiums and centralized venues. Players were either stuck in hotels for months or, like Paulinho and Anderson Talisca in 2021, were unable to return to the country from overseas and ended up being released from their contracts.
With no fans, games being postponed for weeks and months, and big players leaving the game, it's no wonder many have lost interest. The Chinese Football Association paused the schedule for months to allow the national team to prepare for the World Cup qualifiers (which had to be played abroad because opponents could not travel to China) and scare off more people.
It didn't work out anyway, as Team Dragon didn't come close to Qatar and finished qualifying eight points behind Oman and a whopping 17 behind group winners Saudi Arabia, home of a league that had replaced China as Asia's premier league for foreign stars even before the arrival of Cristiano Ronaldo. The Chinese Super League has not only never been an option for Al Nassr's new player, it has never been mentioned as the remotest possibility or the wildest rumours.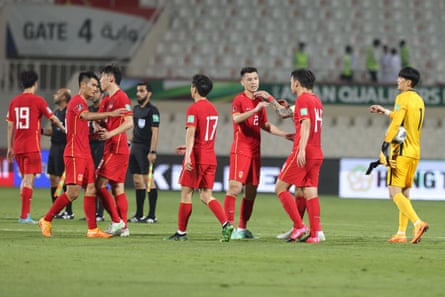 If another international failure didn't come as a shock, neither did mounting financial problems. With no fans buying tickets, sponsorship revenue falling and broadcasters losing interest due to irregular scheduling, many clubs soon found themselves in trouble. In February 2021, defending champions Jiangsu FC, owned by retail giant Suning, which is currently trying to sell Internazionale, folded. A bigger problem was the financial problems faced by property developers, who were hit by an overheated market. Property companies owned, at least in part, more than half of top clubs and over time more and more clubs were unable to pay wages or electricity bills.
At the end of the 2021 season, Chongqing coach Chang Woe-ryong spoke for many as he burst into tears and said, "I want to thank the players who have overcome many difficulties this year. The reason I shed tears was because I felt so sorry for them and their families."
There have been many other examples, such as Hebei FC owned by China Fortune Land Development. "Since 2020, Hebei FC has encountered unprecedented difficulties," the club, which had not long bid farewell to Manuel Pellegrini, Mascherano and Lavezzi, said in 2021. "It is true that the club cannot pay water and electricity bills, as well as travel expenses. "
Hebei's financial woes led to a point deduction in November (two other clubs in the top division and five in the second were given the same penalty), despite relegation already a certainty. However, there was a bigger name that fell. Evergrande bought Guangzhou in 2010 and started the spending spree that spread across the country by buying stars who played for coaches like Marcello Lippi and Luiz Felipe Scolari in front of an average crowd of more than 40,000. The Reds dominated the next decade with eight Chinese Super League and two Asian Champions League titles. However, as of 2021, the real estate giant was $300 billion in debt. The football team had become a distraction and was increasingly made up of local rookie players. The relegation was confirmed in December. The first drop in big donors really marked the end of an era, although other clubs that have stayed up may go out of business if Guangzhou could be given a reprieve.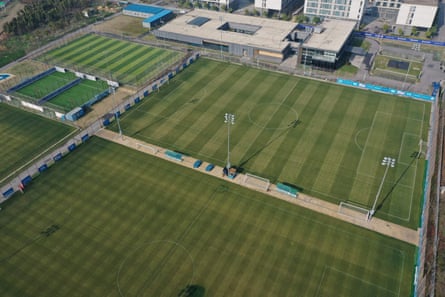 The hope is that no more clubs will fold. As zero-Covid is abandoned, the country and economy open up, there should soon be more ticket sales, sponsorships and broadcast revenue. Things are also brighter in the property market, with around £400 billion in loans made available to cash-strapped property companies in December.
It remains to be seen whether this will affect the clubs. Whether a return to the old state is desirable has not been discussed much – but that can wait. For now, fans can finally see their teams play at home and away for the first time since 2019. It looks like something approaching normality – although that may be a relative term – is about to return in Chinese football.