C. EVER HORTON

CANNAPOLIS — After moving to town 12 years ago and leaving his footprint at one of Cabarrus County's most respected programs, Mike Newsome retired as AL Brown's football coach on Thursday morning.
Newsome made his announcement via social media, sending a heartfelt message that he was leaving the game he loves to spend more time with his family.
Newsome is also retiring as a science teacher at AL Brown, and his last official day at the school will be June 30, Wonders Athletic Director Empsy Thompson said.
This is the second year in a row that Cabarrus County's longest-serving football coach has retired. Last year, Mount Pleasant coach Mike Johns retired after 23 years at the helm of the Tigers.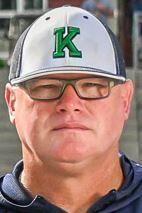 In his 12 seasons at AL Brown, Newsome posted a 97-49 record, which left him three wins to become only the eighth coach to record 100 wins at a Cabarrus County school.
Newsome replaced the late Ron Massey at AL Brown, and he was received with great fanfare after guiding Matthews Butler to two Class 4A state championships.
Although Butler was a relatively new school in Mecklenburg County at the time, Newsome quickly made it one of the most respected programs in the state. In his seven seasons at the helm of the Bulldogs, he went 83-16, making campus a regular stop for coaches from major Division I colleges. His tenure there was highlighted by his combined 31-0 in 2009 and 2010, culminating by the state crowns.
Although he never won a state title with the Wonders, Newsome has won three conference championships while serving time at both the Class 3A and Class 4A levels and has four seasons with at least 10 wins. He made the playoffs in 11 of his 12 seasons at the top and won at least one postseason game six times, reaching the third round twice (2011 and 2012).
Among his most memorable accomplishments, at least among Wonders fans, was Newsome's winning eight straight Battle for the Bell games, the annual regular-season showdown with archrival Concord. That's more than any AL Brown coach in Bell Game history.
However, Thompson said he will not only remember Newsome for his achievements on the gridiron.
"Coach Newsome is a great football coach, a great person, a great leader," Thompson said. "He's the most detail-oriented person I've ever encountered, really organized. There are many strengths he has but the greatest is just his caring for children. They don't always get it just because he's a rough tough guy on the outside but a teddy bear on the inside. He cares so much about his kids and their achievements on and off the field.
"I just can't say enough about the man himself, no less about the coach. He's just first class at everything he does and he will be missed."
Although Newsome announced his decision Thursday morning, he informed Thompson on Monday. Newsome, Thompson said, wants to meet with players and his coaching staff before bringing it to public attention.
He met with coaches on Wednesday and spoke to players on Thursday, about 30 minutes before his social media post.
When asked about a timeline for Newsome's successor, Thompson said: "I think it's very early in the process at this point in time to determine that. For me a schedule is not the most important thing; find the right replacement. But we also want that person to have the opportunity to come in and get started and get to know their children and staff – just the community and the school itself.
"Obviously we will work as diligently as we can to find the right fit so we can continue our proud tradition."
In a post on the AL Brown Twitter feed, Newsome addressed his need to spend more time with his wife Laura, daughter Chloe and son Yates.
"Coaching is very fulfilling. I have loved being a part of the men's team achievements and am very proud of all the individual achievements of current and former players. Coaching is also very hard. It has become a 365 days a year, 7 days a week, 24 hours a day job. It's no longer just about knowing and understanding the X's and O's, it's extremely challenging. There are trainers who have found out how to reduce the workload, but not with me. I was taught that hard work is the key to success, so all I know is how to "grin". This "grind" has become a great sacrifice for my family. As a father and husband, I have missed practice and games, family trips, vacations, birthday parties and celebrations. I have tried to build teams around the priorities of the 4 F's, Faith, Family, Future & Football. Unfortunately for my family, the demands of coaching make it difficult to make it a priority. It is time I started practicing what I preach."